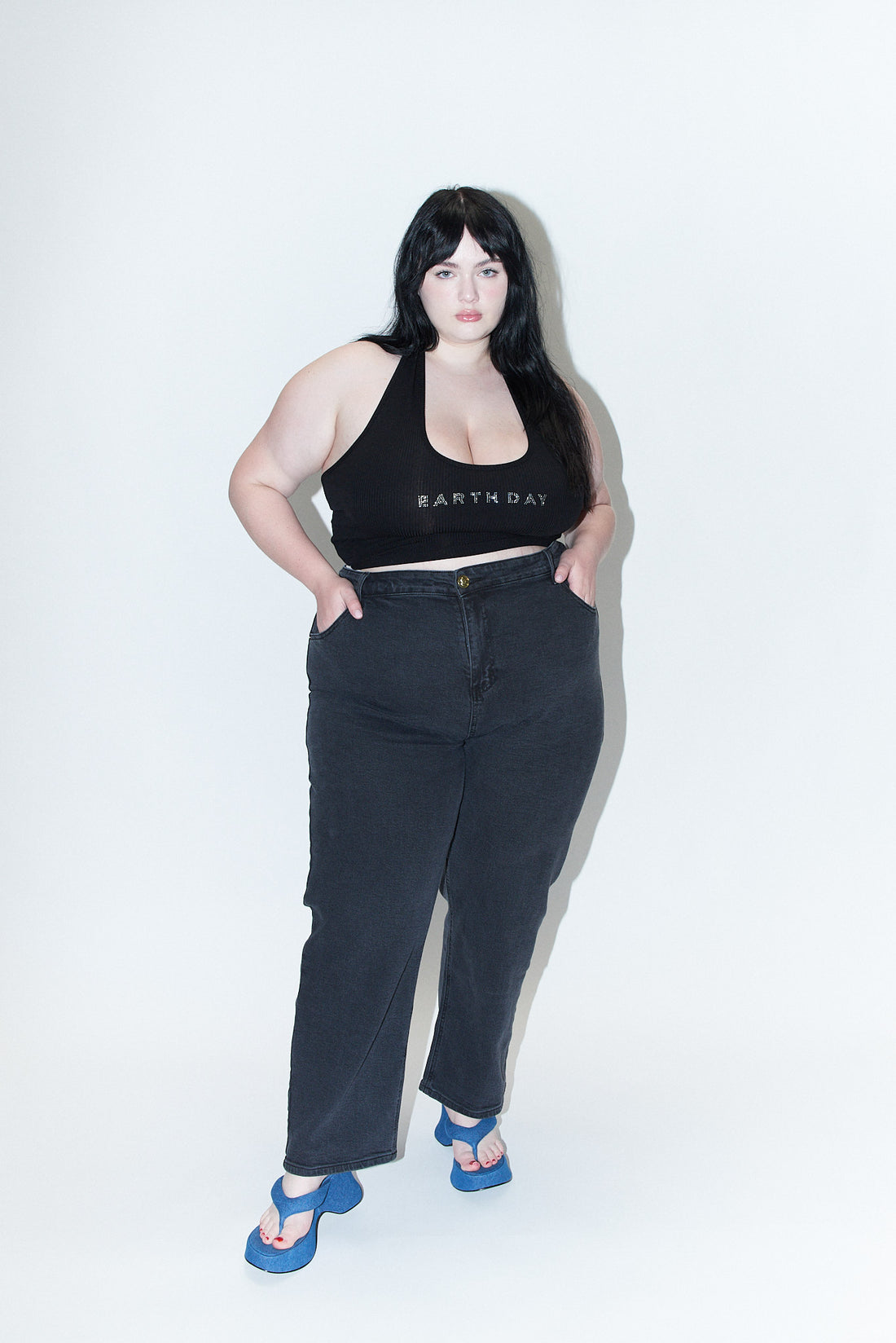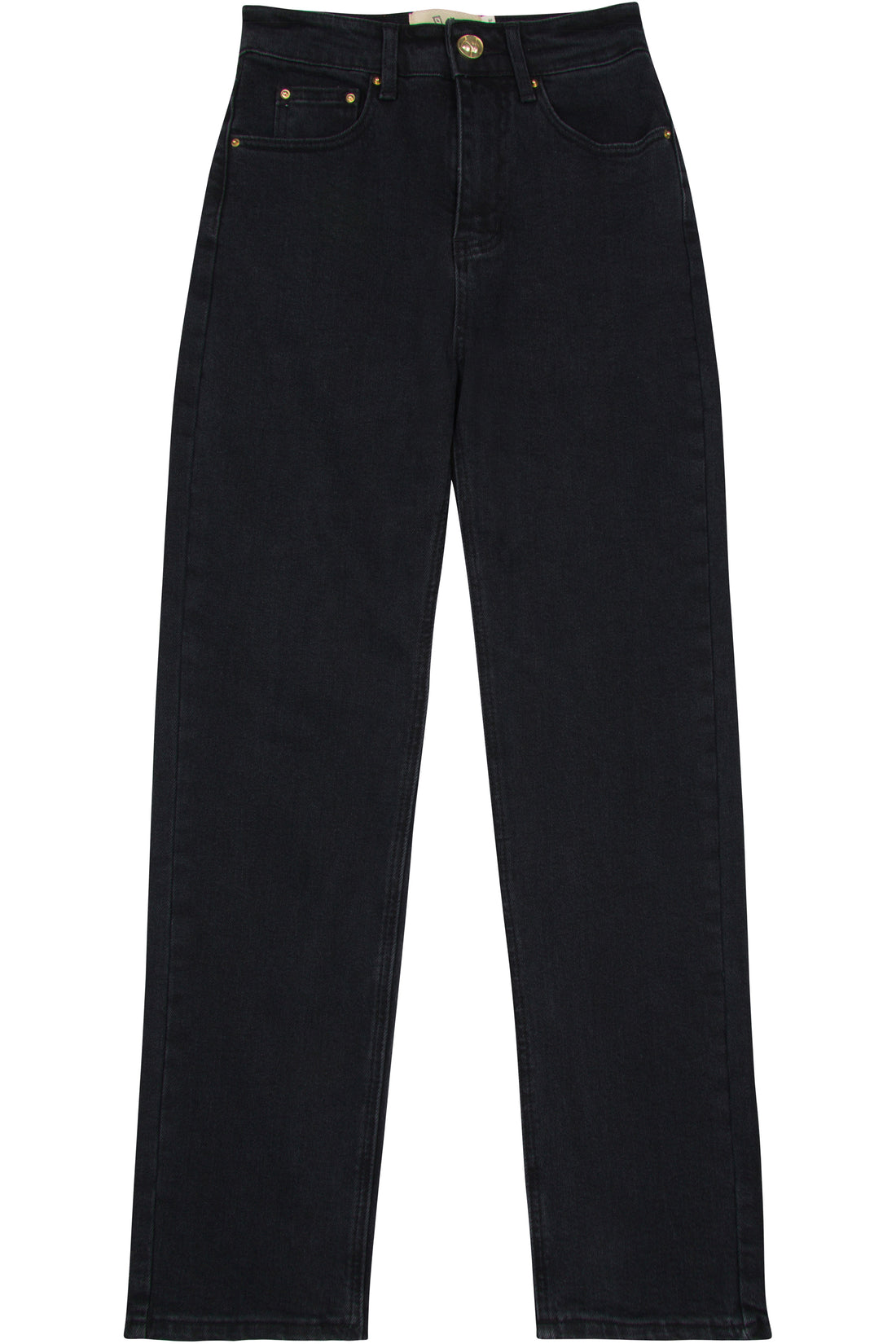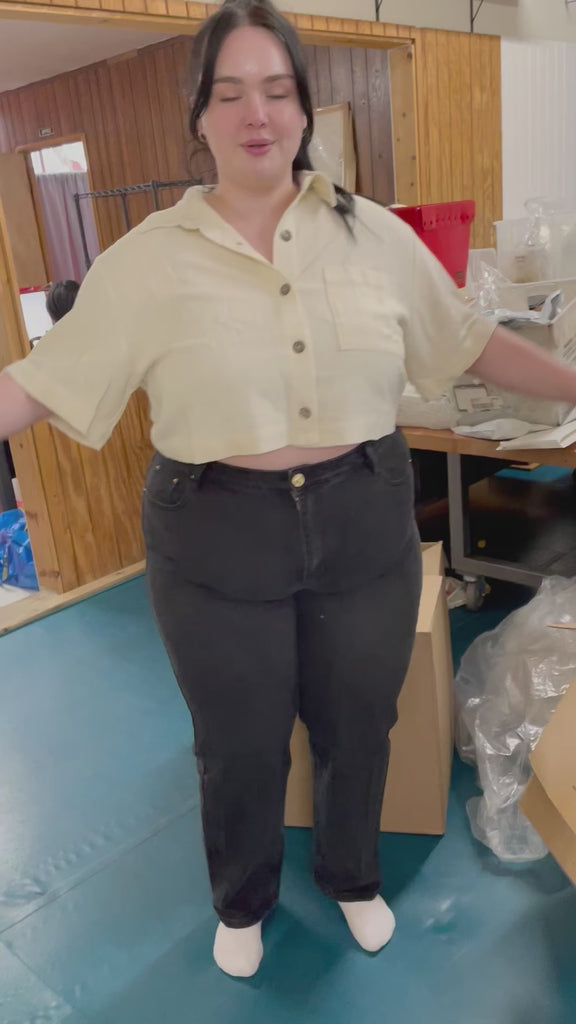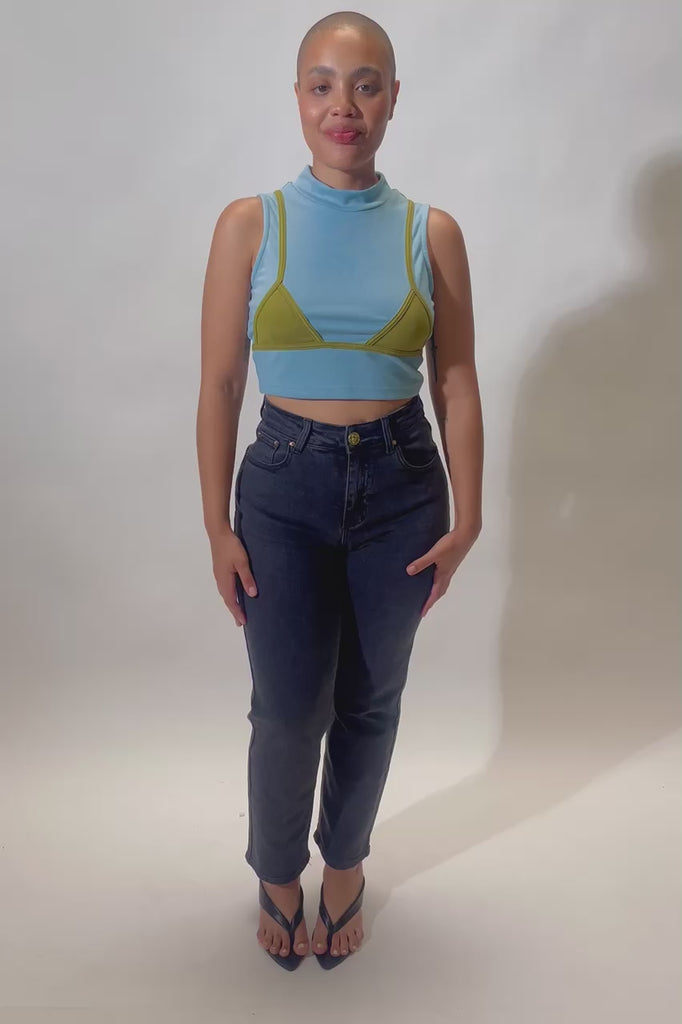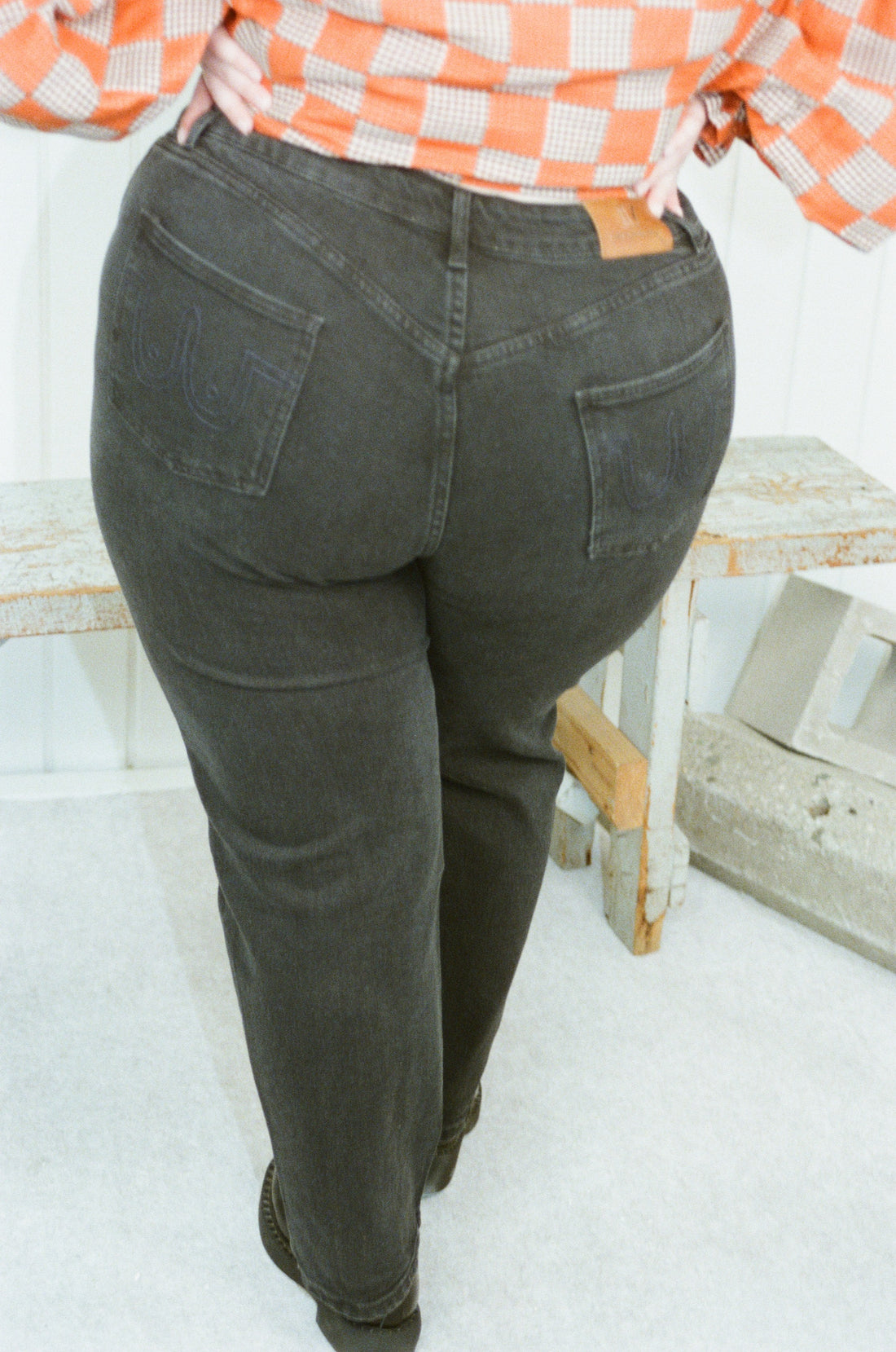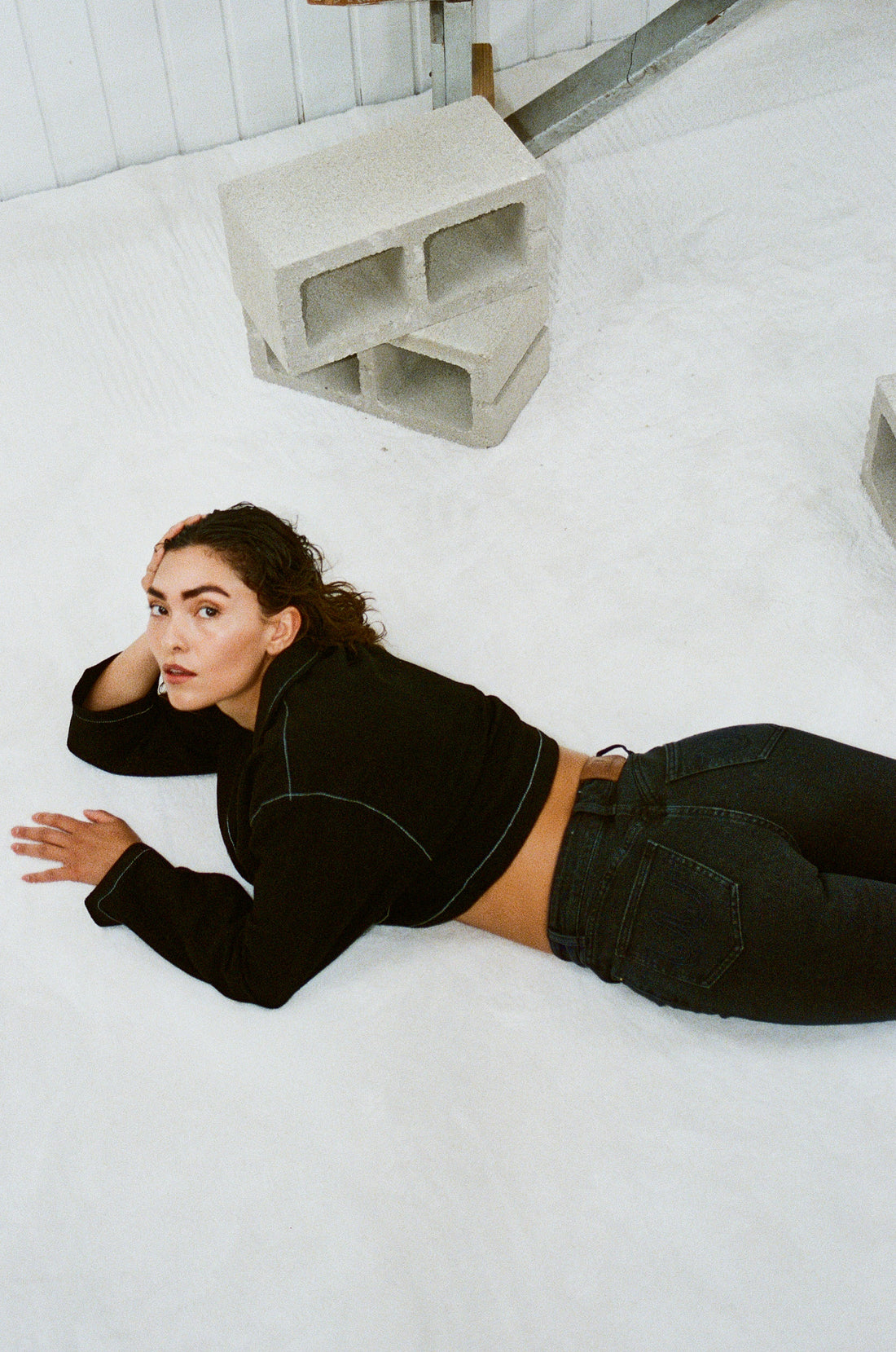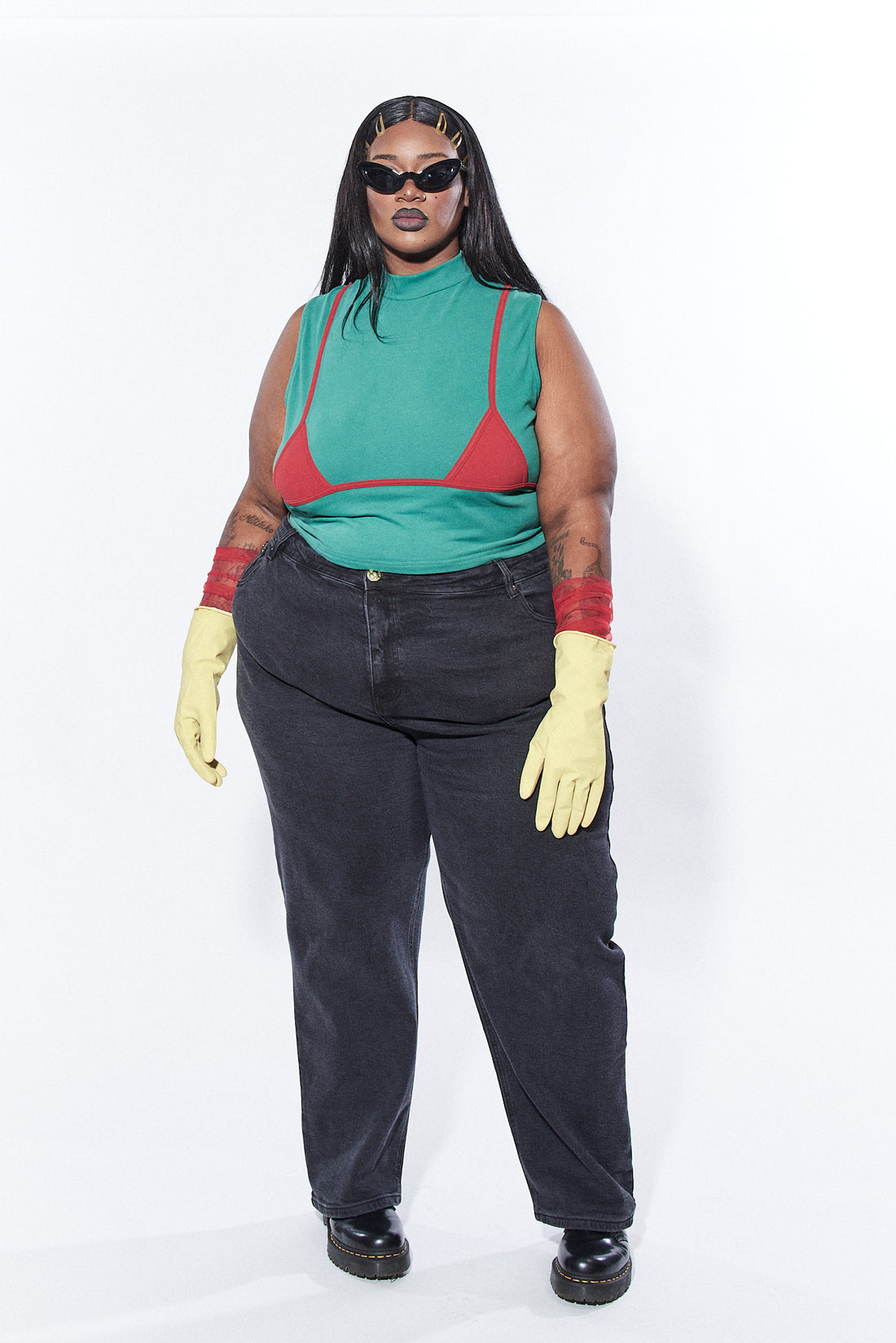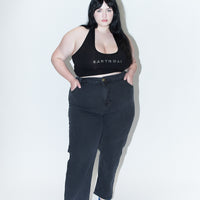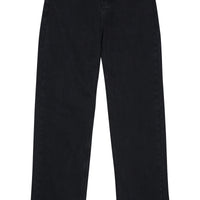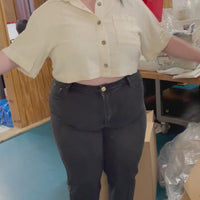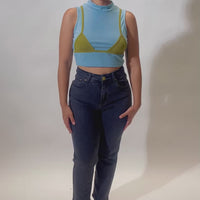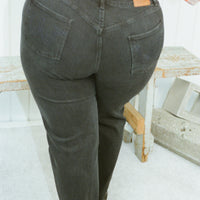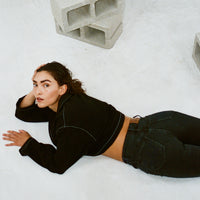 These jeans are high-waisted and have a bit of stretch to them but don't lose their shape or become baggy after too much wear. Just enough stretch so that you can comfortably lounge but enough structure to have a sculpting effect and make you feel held. Custom gold FBC "butt-on" and subtle booby dark blue embroidery on the butt pockets. This particular fit works really well for those of you blessed with a generous waist to hips ratio. No Waist gap! No camel toe! Great for beautiful thick thighs! Seriously though I get novel length emails from customers praising these pants more than any other item I have ever designed. Dozens of big-butted customers tell me these are hands down the best fitting pants they've ever had 
Some customers have said these pants fit a half size too large. I would refer to waist measurements to find your perfect fit but keep in mind fabric has lots of forgiving stretch especially in the butt and thighs. So far most customers who have returned these pants have re-purchased them in 1 size smaller. 
DETAILS
-ykk zip fly
-Black denim fabric is 98% cotton 2% spandex
-Custom FBC "butt-on" closure 
SOLD OUT SIZES WILL BE BACK IN STOCK IN NOVEMBER 2023 
measurements taken from fabric unstretched- fabric has an additional few inches of comfortably stretch.


XXS (Fits like a 23 or 24):Waist: 23", Inseam: 27", Rise: 10.5"
XS (Fits like a 25 or 26):Waist: 24.5", Inseam: 27", Rise: 11"
S (Fits like a 27 or 28) :Waist: 26.5", Hips: 42", Inseam: 27.25", Rise: 11.5"
M (Fits like a 29 or 30):Waist: 28.5", Inseam: 27.5", Rise: 11.75"
L (FIts like a 31 or 32) :Waist: 30.5", Inseam: 27.75", Rise: 12.25"
XL(fits like a 33 or 34) :Waist: 32.5", Inseam: 28", Rise: 13"
1X (fits like a 35-37): Waist: 35.5", Inseam: 28.25", Rise: 13.5"
2X (fits like a 38-40):Waist: 38.5", Inseam: 28.5", Rise: 14"
3X (fits like a 41-43):Waist: 42", Inseam: 28.75", Rise: 15"
4X (fits like a 44-47) :Waist: 45", Inseam: 29", Rise: 16"
5X (fits like a 48-50) :Waist: 49", Inseam: 29", Rise: 17"