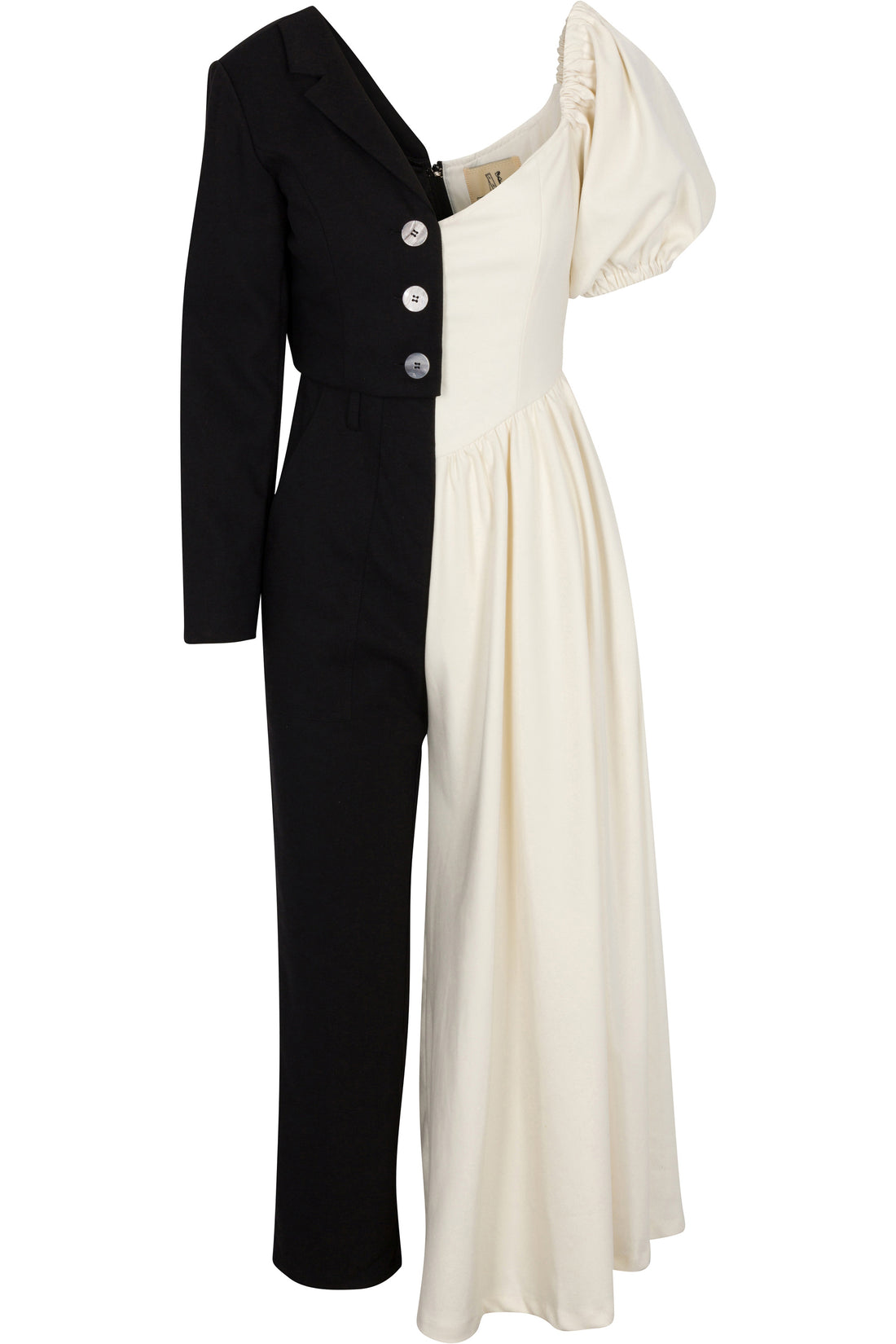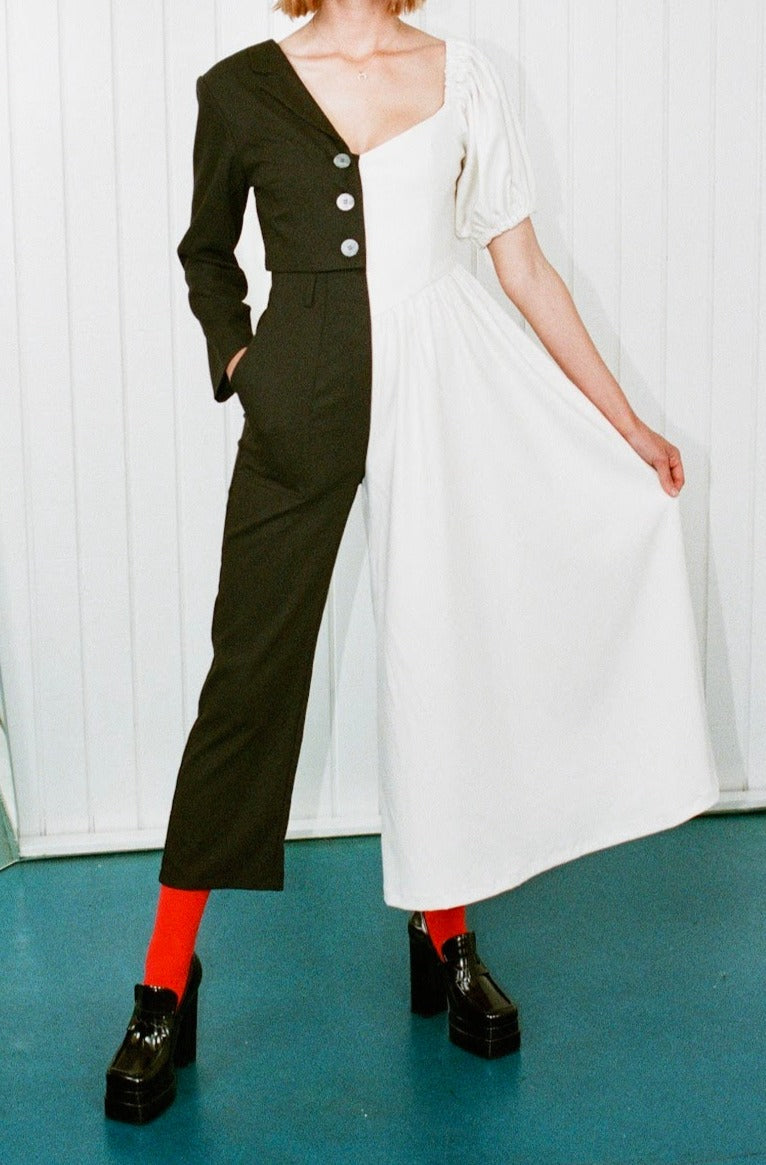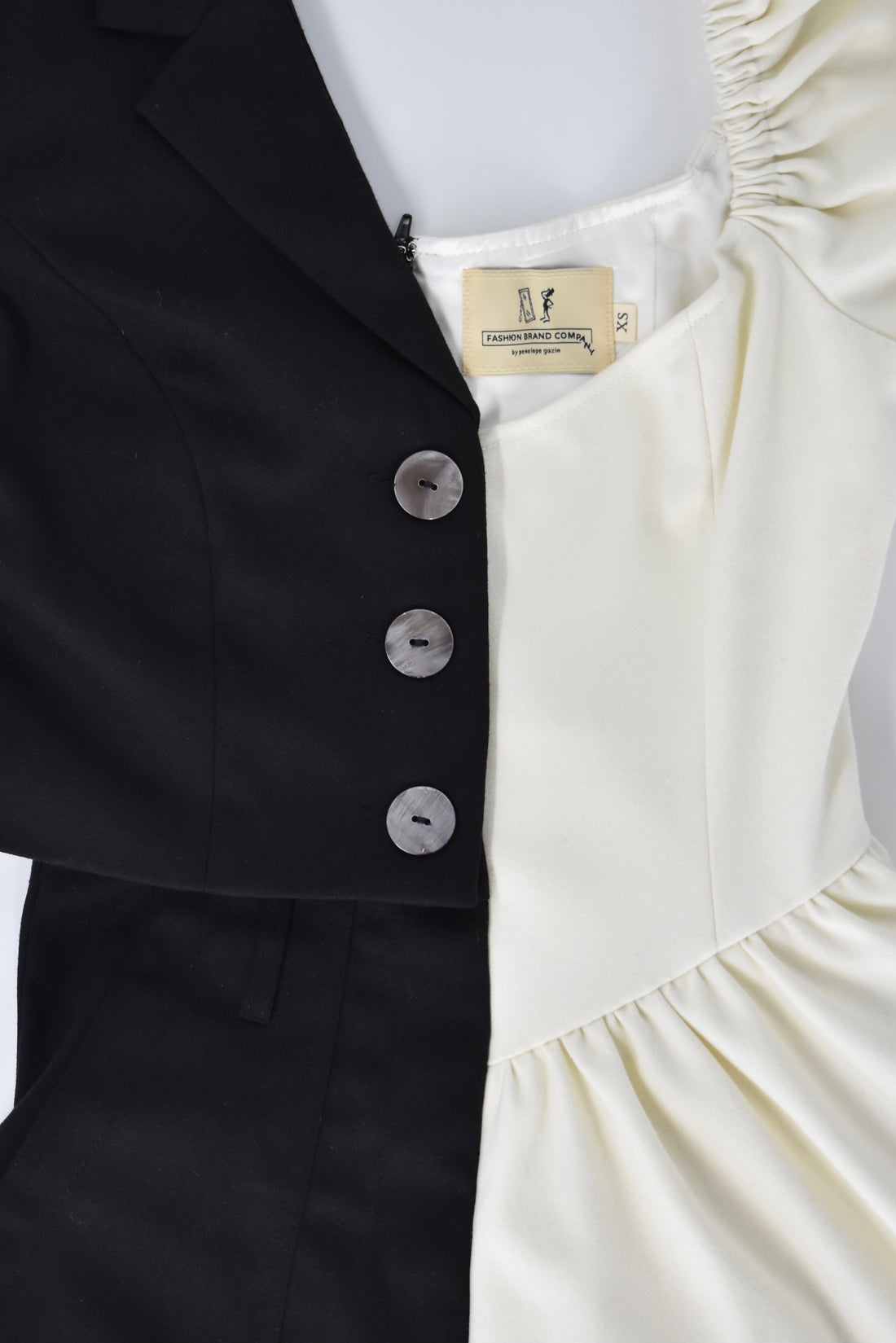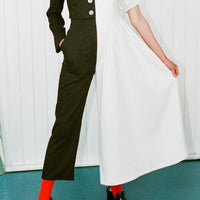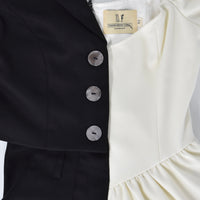 A formal piece for that special day when you marry yourself. A white gown on one side and a black suit on the other. The black suit has an attached half-blazer with an elastic strap underneath. The gown side has a poofy elastic sleeve that can be worn on or off-the-shoulder. It can be cut in half if you ever decide to get divorced. 
DETAILS:
-Super flattering and sturdy tailored illusion jumpsuit.

-zip up back closure

-Hidden stretch short leg underneath the loose white palazzo pant leg. This allows the jumpsuit to fit securely and comfortably while giving the illusion that one side is tailored and one side is flowy.
-faux blazer is attached at the back of the jumpsuit and buttons in the front. Structured shoulder pad on black "blazer"

-2 side pockets. 1 back pocket

-Made using an incredible thick but breathable fabric with a slight amount of stretch that doesn't stretch out or wrinkle. Very smoothing and flattering. It's the same fabric used on the two tone sleeveless jumpsuits. Machine washable. Doesn't shrink and colors don't bleed.

-fabric is 78% terylene 20% rayon 2% spendex
-Fits pretty true to size but I personally think these fit a hair large if you are looking for a super tailored fit. 
Morgan is wearing the size 2XL

Valerie and Willie are wearing the size XS

fabric has about 2" of stretch and give

XS

Bust: 32", waist: 26", Pant inseam: 27", Crotch to waist: 12"



S

Bust: 34", Waist: 28", Pant Inseam: 27", Crotch to waist: 13"



M

Bust: 36", Waist: 30", Pant Inseam: 27.5", Crotch to waist: 13.25"



L

Bust: 38", Waist: 32", Pant Inseam: 28", Crotch to waist: 13.5"



xl

Bust: 40", Waist: 34" , Hip: 45", inseam 28", crotch to waist 13.75"



2XL

Bust: 44", Waist: 37.5", Hip: 47.5" , Pant inseam: 28.5", Crotch to waist: 14"



3XL

Bust: 47", Waist: 40.5", Pant inseam: 28.5", Crotch to waist: 15"



4XL

Bust: 50", Waist: 44", Pant inseam: 28.5", Crotch to waist: 16"