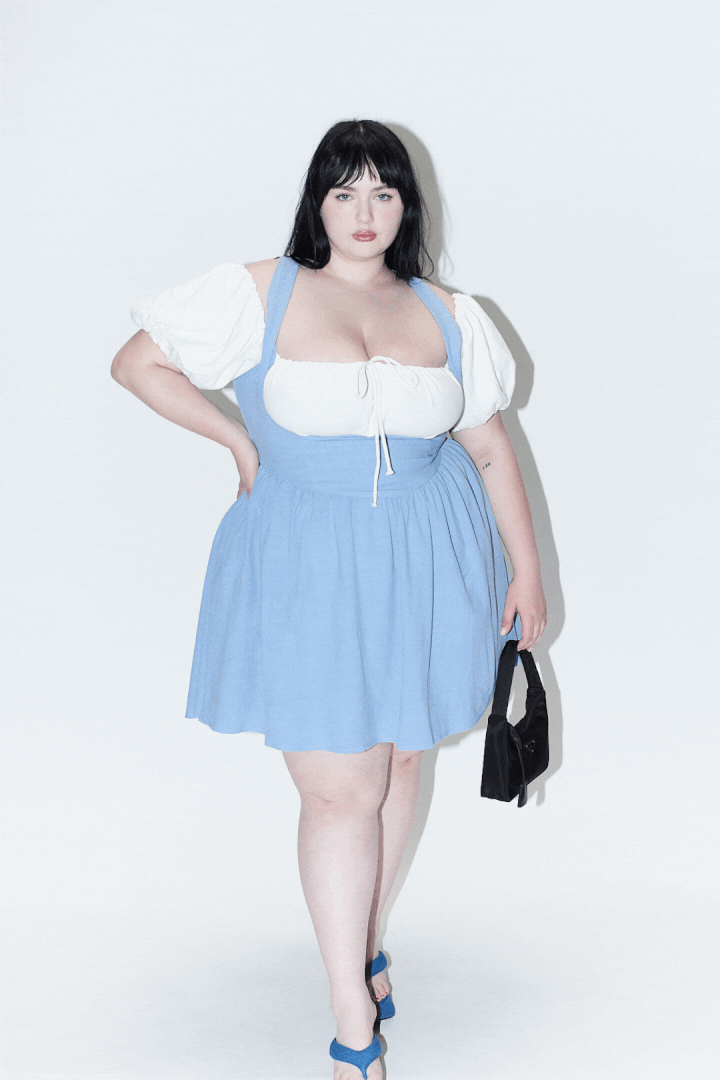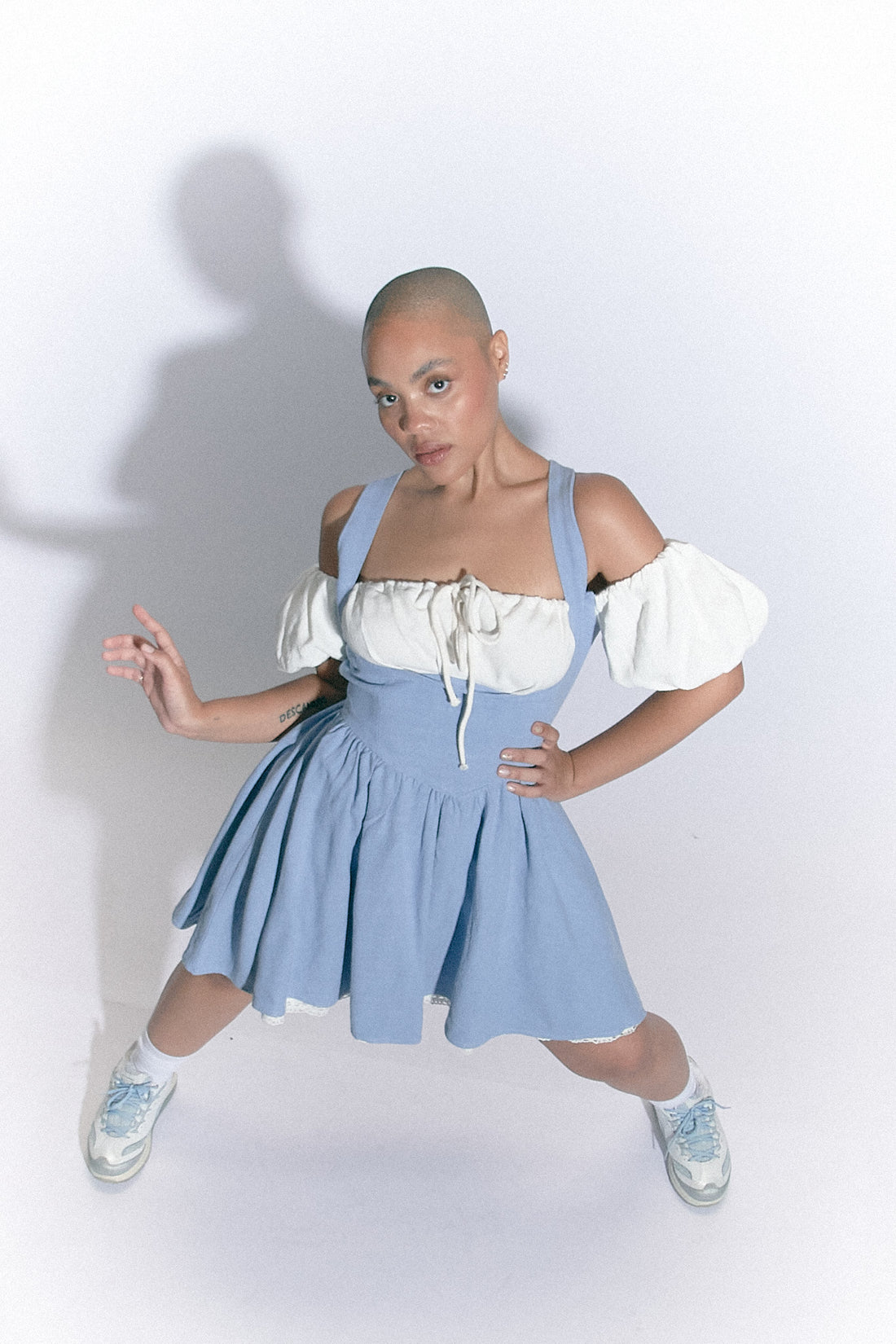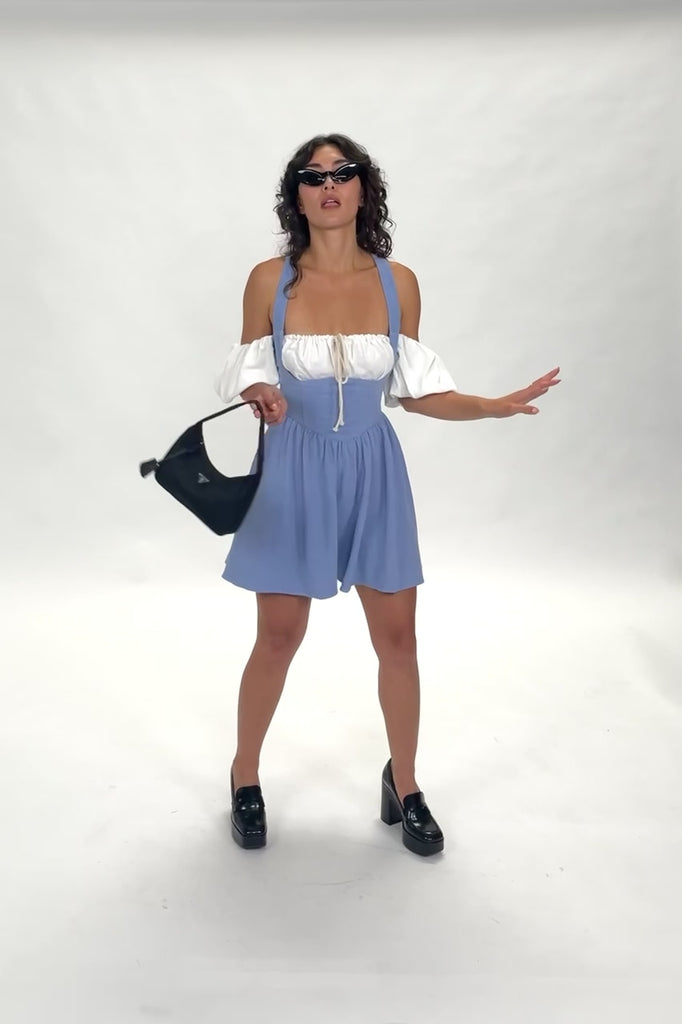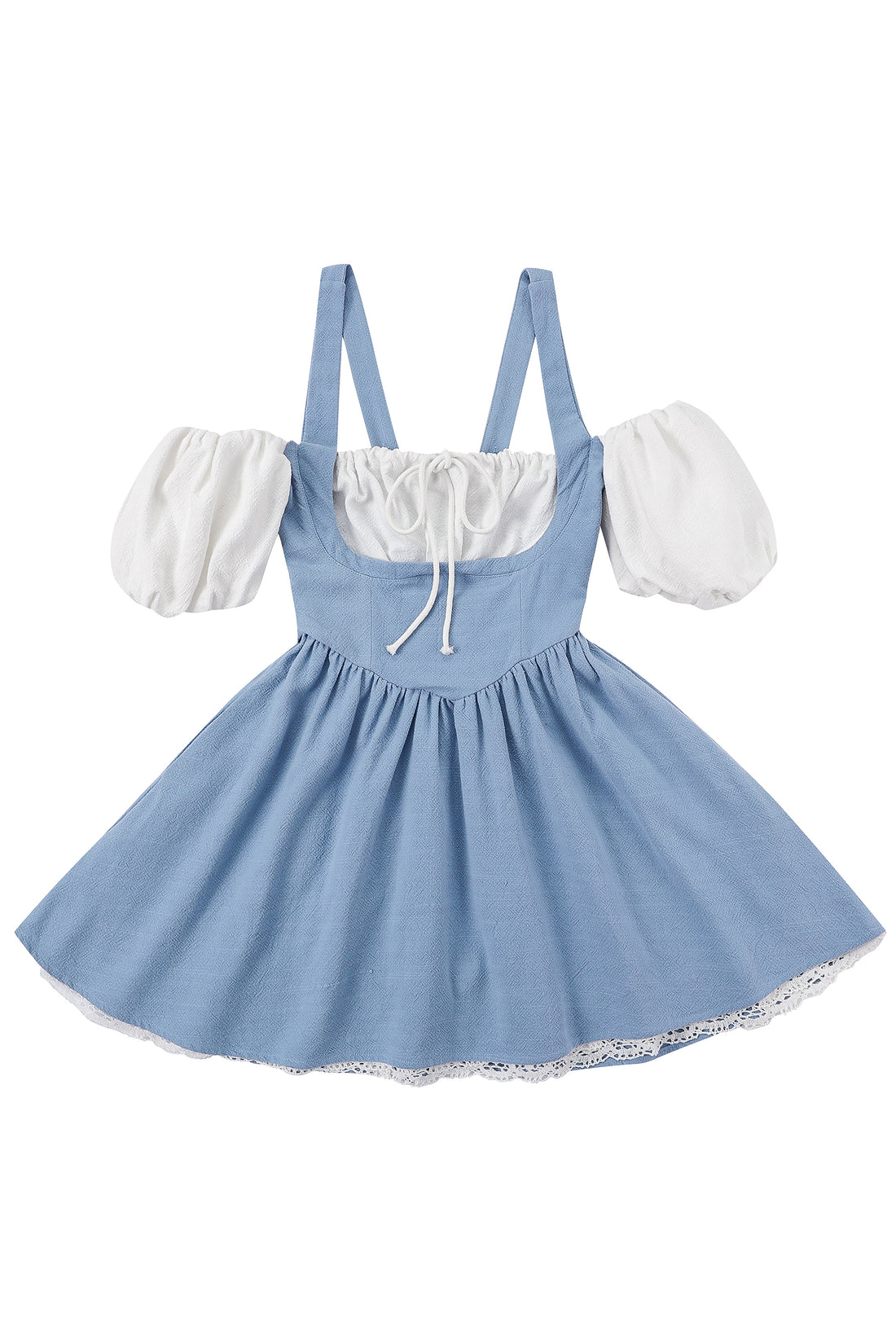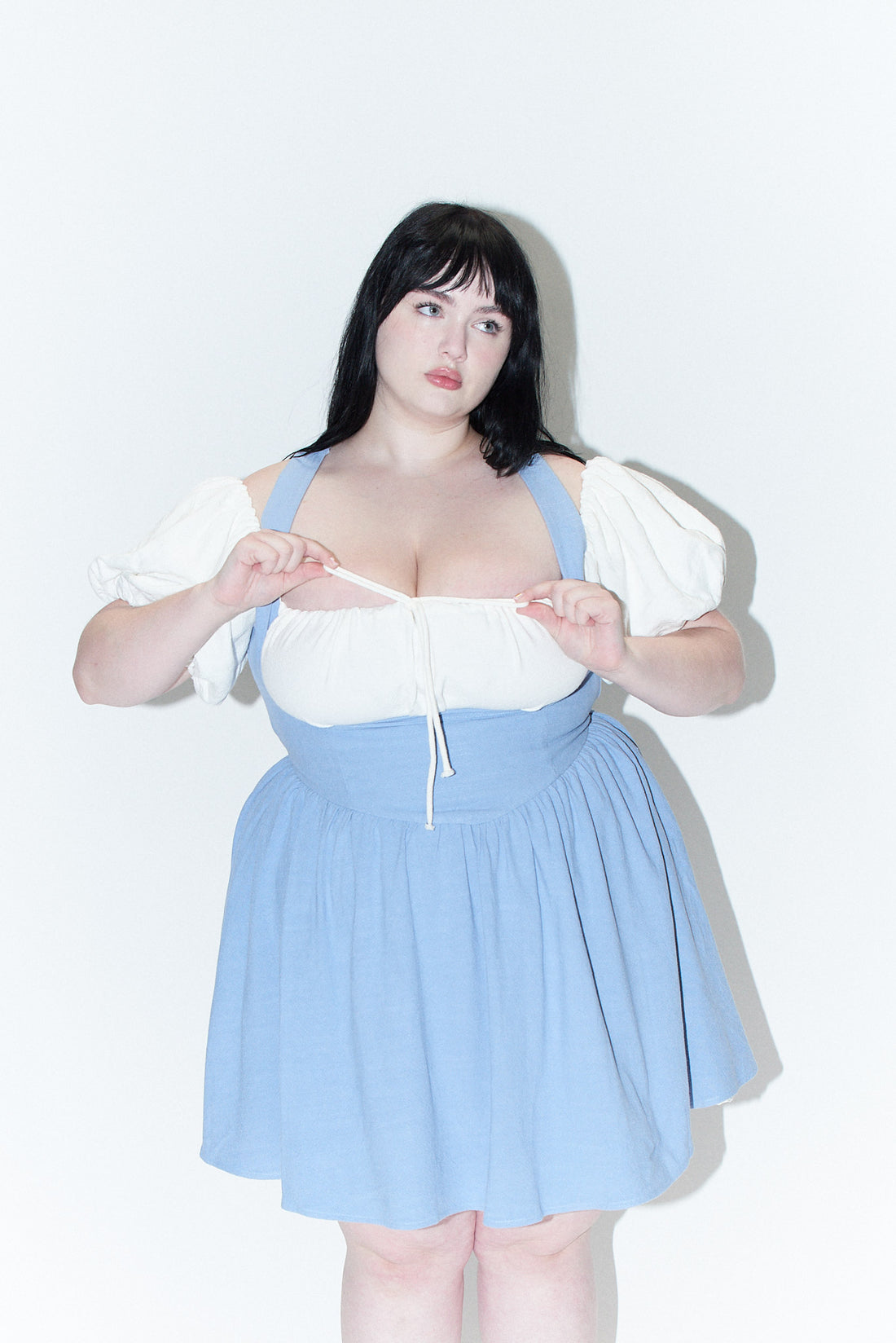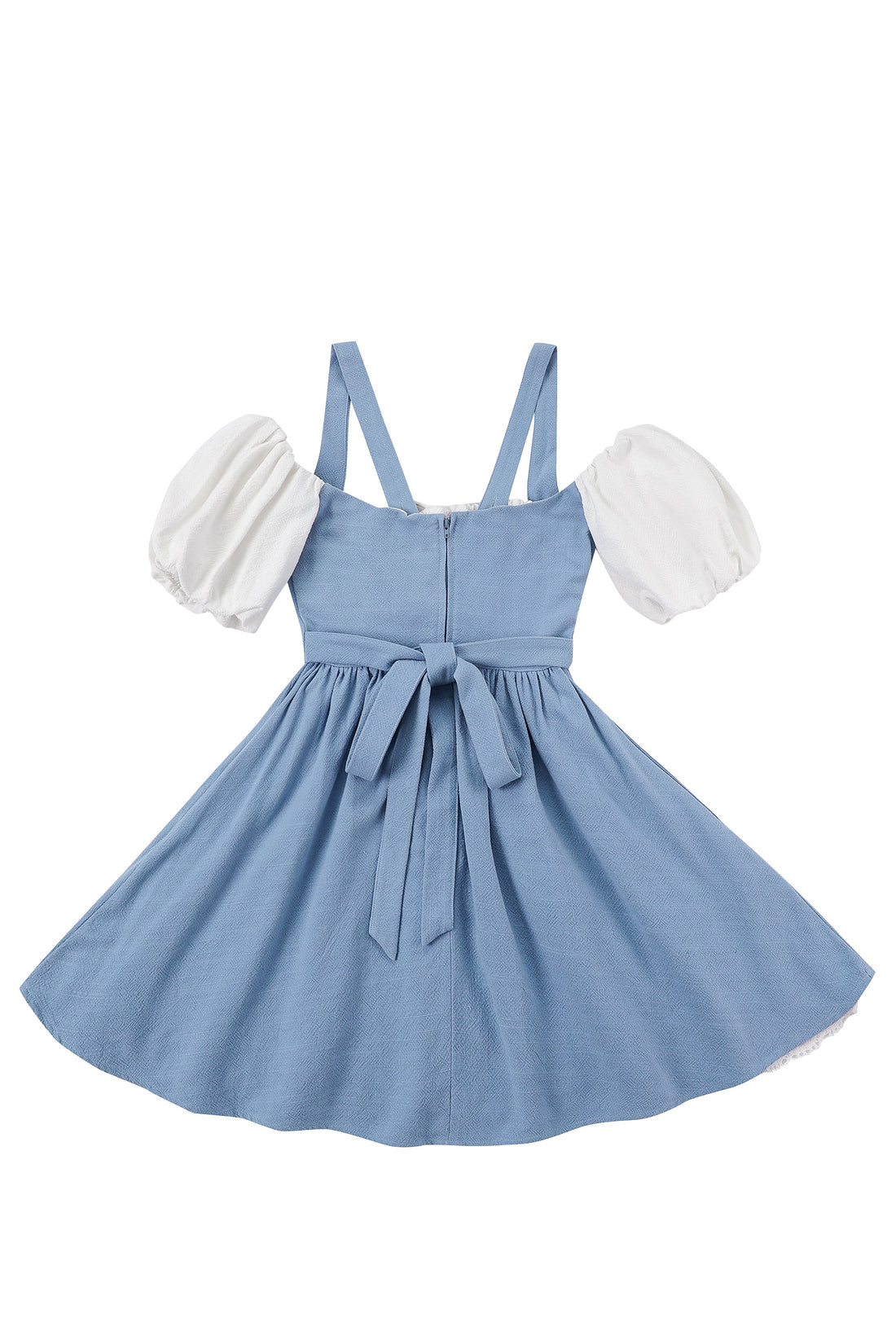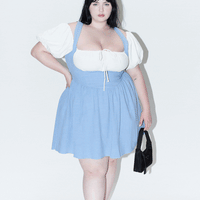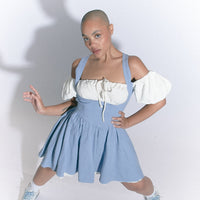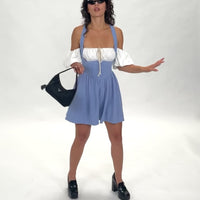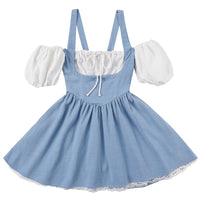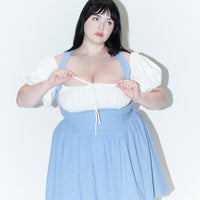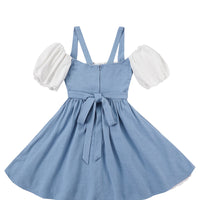 Milk Maid Linen Mini Dress Light Blue
This dress is very adjustable! Tie adjustment at bust, strap length can be adjusted with hidden buttons in the back plus the straps can be worn straight, crossed, or even tiied at the neck like a halter. Adjustable side waist ties. Elastic cuff sleeves can be worn on or off the shoulder. 
Details
- Dress fits true to size- machine washable
-100% thick sturdy linen that gets better with washing
-Light cotton under petticoat layer with cotton lace trim
-ykk ZIp up back with long ties for a bow in back
-This dress is super sturdy and has a corset like fit (You will not break it this dress it is industrial costume grade basically). I often recommend customers buy a size that has a waist measurement that is a few inches smaller than their natural waist because it will "hold" you while still being comfortable. Don't be afraid of the waist measurements! For example my natural waist is a 28" but the S fits me perfectly even though the waist is smaller than my natural waist. Hope this helps. 

please refer closely to measurements.
2XS: Bust: 31.5", Waist: 23", Dress length: 30.5"
XS: Bust: 33", Waist: 24.5", Dress length: 31"
S: Bust: 34", Waist: 25.5", Dress length: 31.5"
M: Bust: 37", Waist: 28", Dress length: 32.5"
L: Bust: 39", Waist: 31", Dress length: 33.5"
XL: Bust: 42", Waist: 33", Dress length: 34"
1X: Bust: 45", Waist: 36", Dress length: 35"
2X: Bust: 48", Waist: 39", Dress length: 36"
3X: Bust: 52", Waist: 43", Dress length: 37.5"
4X: Bust: 57", Waist: 48", Dress length: 39.5"
5X: Bust: 63", Waist: 54", Dress length: 42"

Wash on cold and dry on low.